Restoring Near Vision With Kamra Inlay
Friday, June 13th, 2014, 9:15 am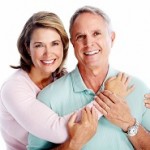 Are you able to see objects in the distance clearly but need your reading glasses to see the text on a menu? Are you over the age of 40 and notice your near vision is not as good as it used to be, even though you have never before experienced vision problems?
If so, you might suffer from hyperopia (farsightedness) or presbyopia (age-related farsightedness). Thankfully, the Toronto laser vision correction surgeons at Skouras Eye Centre offer the Kamra Inlay, an effective, convenient way to improve your near vision.
What Is Kamra Inlay?
Simply put, the Kamra Inlay is an implantable device that Toronto laser eye surgeon Dr. Nicholas Skouras places in the eye. It is designed to correct the effects of presbyopia and improve near and intermediate vision.
How Does It Work?
The Kamra Inlay is a round, opaque micro-disc with an extremely small aperture, or hole, in the center. When implanted in the cornea, the central hole in the Kamra Inlay works to keep out unfocused light while allowing the focused light to reach the retina. Focused light rays allow individuals to enjoy improved near, distant and intermediate vision. The Kamra Inlay's  micro-aperture technology can be a good alternative to treatment options involving a multifocal vision correction approach.
Benefits of the Kamra Inlay
One of the major benefits of the Kamra Inlay is its size. Its diameter is only 3.8 mm, making it smaller than a contact lens. Also, it weighs less than a single grain of salt. You would not even notice its existence if it was not producing such a dramatic improvement in your vision. In addition, because it is an implant, you can be confident that the Kamra Inlay is always in its correct place, no matter where you are or what you are doing.
To schedule a consultation with Dr. Skouras to experience the vision-transforming effects of the Kamra Inlay, please contact Skouras Eye Centre by calling (416) 590-0445 today.
---
Category: Kamray Inlay, Presbyopia
---