Lasik Eye Surgery in Toronto
Am I a Candidate for LASIK?
To determine if you are a good candidate for LASIK surgery in Toronto, you will need to arrange for a complimentary assessment at the Skouras Eye & Cosmetic Centre.
At your assessment, several tests will be provided to determine if your eyes are healthy enough for LASIK. Ideal candidates:
Must be at least 18 years of age
Are not pregnant or nursing
Are in good general physical and mental health
Do not have any eye diseases
Have a stable prescription for one year prior to surgery
If you are not a good candidate for LASIK, you may be eligible for another laser vision correction procedure such as PRK.
Latest Most Advanced Technology
The most important sense in life is your sight. At Skouras Eye & Cosmetic Centre we use the most advanced state of the art Lasik technology to treat:
Myopia (nearsightedness)
Hyperopia (farsightedness)
Astigmatism (blurred vision due to irregular shaped cornea)
Using the most advanced bladeless technology allows for more precise results and superior safety which allows your Lasik surgeon to provide you with the best visual outcome possible.
Benefits of Lasik Surgery At Skouras Eye & Cosmetic Centre
Consultation performed by Your Acting Physician and Surgeon. Very Unique Service in this Field!
Lasik is the Safest Elective Procedure in the World!
Wake Up With Clear Vision
iLasik: Intralase & CustomVue VisX

LASIK surgery has undergone several changes and improvements over the years. One of the latest and most advanced forms of LASIK is iLASIK, which uses IntraLase® and CustomVue™ technologies to provide stellar visual outcomes. Dr. Skouras uses state-of-the-art technologies such as VISX S4 Excimer Laser and the new Alcon WaveLight® EX500 Excimer Laser combined with iDesign suite from VISX. Alcon Wavelight is the fastest refractive surgery platform available on the market, with a treatment time of only 1.4 seconds per diopter. The new iDesign suite diagnostics for the VisX S4 gives even more precise corneal mapping information, thus providing even better laser vision correction results. Having the option of utilizing both VISX S4 laser and Alcon Wavelight laser gives Dr. Skouras the ability to provide custom results based on your individual refractive requirements.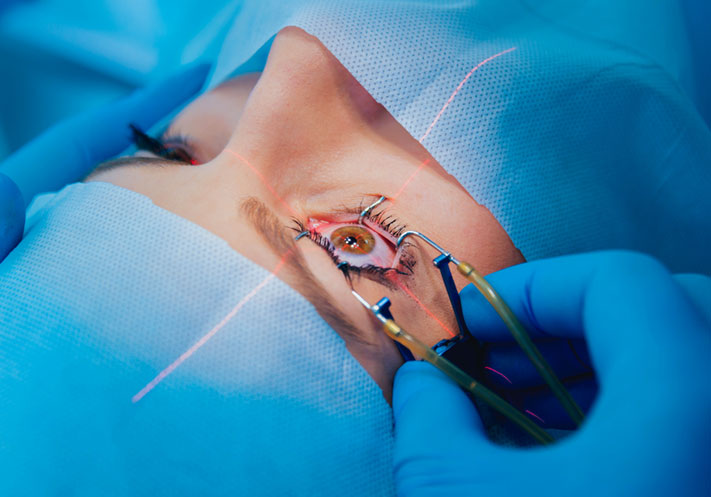 IntraLase, also known as bladeless LASIK, is a revolutionary technology that has changed the face of refractive surgery. This all-laser procedure uses a sophisticated laser in lieu of the metal blade used in conventional LASIK.
Prior to the advent of IntraLase technology, the corneal flap made during LASIK and other vision correction procedures was made with a blade called a microkeratome. In contrast, IntraLase uses laser energy to create the incision, in turn producing a thinner flap, providing superior safety and preserving most of the natural cornea. IntraLase has vastly reduced the risk of complications associated with creating the corneal flap.
Before creating the corneal flap, Dr. Skouras uses VISX's CustomVue or iDesign platforms to create a unique map, or "fingerprint," of your eye. With CustomVue or iDesign, Dr. Skouras is able to use detailed information from your eyes to calibrate the laser so that your procedure is fully customized. The CustomVue and iDesign platforms allow Dr. Skouras to correct your unique refractive errors so that you end up with optimal post-operative vision, regardless of which type of refractive error you have.
LASIK Financing & Costs
If you are concerned about the cost of LASIK surgery, we can work with you to come up with a plan that fits your budget. If necessary, we will discuss financing options with you, such as patient financing available through Medicard.
The staff at Skouras Eye & Cosmetic Centre looks forward to speaking with you about your options. For more information on pricing and financing options, please call Skouras Eye & Cosmetic Centre at (416) 590-0445.
The Procedure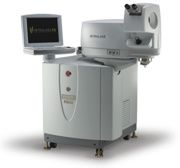 Before beginning the LASIK procedure, Dr. Skouras administers numbing eye drops. Next, he uses the IntraLase femtosecond laser to create a precise flap in the epithelium, or outer surface, of the cornea. The laser's computer-guided pulses move across the cornea, creating tiny bubbles at a pre-specified depth at the perimeter of the area designated for the flap. These bubbles cause the tissue to perforate.
After gently peeling back the corneal flap to access the underlying corneal tissue, Dr. Skouras uses the excimer laser to alter the shape of the underlying tissue, correcting the patient's refractive error. The thickness of the tissue removed by the laser's cool beam is less than that of a hair.
LASIK takes just a few minutes, and most patients do not experience discomfort. Many patients enjoy immediate results, with vision continuing to improve over the next several days.
Recovery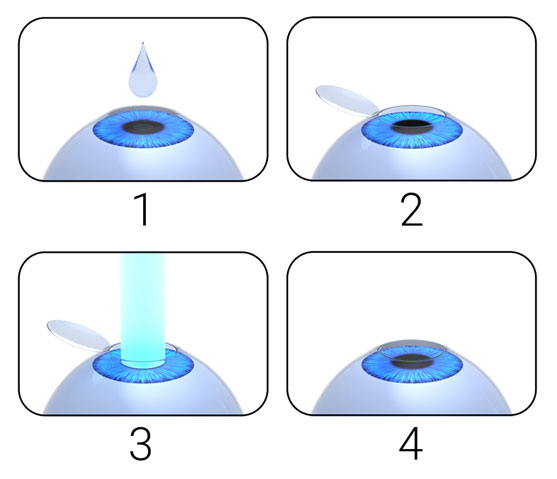 Following the procedure you will need to rest briefly. You will need to arrange for someone to drive you home. When you get home, it is important that you rest for a few hours, with your eyes closed, and avoid computer use and reading for prolonged periods of time for a couple of days following surgery.
Recovery from LASIK surgery varies slightly by patient. Some people are able to return to work the next day. However, if possible we recommend that you rest for a couple days before returning to work and your everyday activities. Do not rub your eyes during this time, and avoid participating in vigorous exercise for a few days.
The team at Skouras Eye & Cosmetic Centre will provide you with comprehensive postoperative instructions. It is crucial that you follow these instructions closely and take the medications we give you as needed. Contact our office immediately if you have any concerns.
Surgeon Experience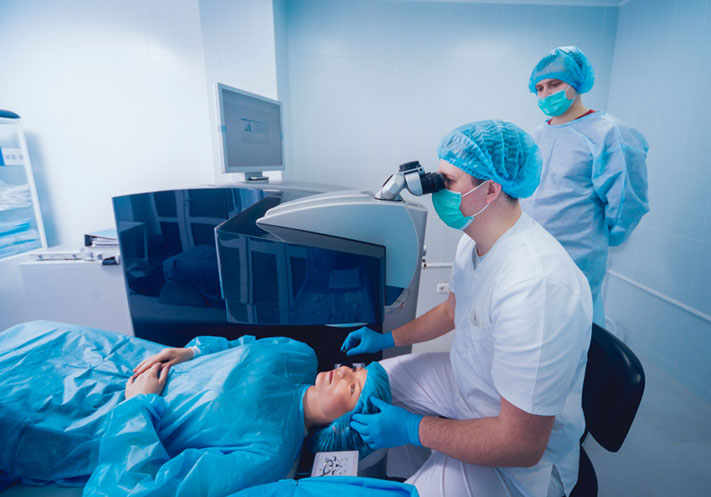 Dr. Skouras has been practising ophthalmology and Lasik in Toronto for 20 years. He completed his medical and ophthalmology training at the University of Toronto. For over a decade, Dr. Skouras has made refractive surgery a focus of his general ophthalmology practice and has worked with many of the lasers widely used today. Dr. Skouras emphasizes on providing only the best patient care and believes in using only the latest most advanced technology available to optimize his patients' results. He is a dedicated surgeon who truly cares about his patients' outcomes and takes a very cautious and thorough approach when screening candidates for Laser Eye Surgery.
He is committed to learning the latest techniques in the industry and thus is a member of numerous professional organizations including:
Specializing in vision correction surgery, Dr. Skouras has a passion for helping people restore their sight.
LASIK FAQs
Before your LASIK surgery, you should avoid wearing contact lenses for a few days or weeks, depending on your surgeon's instructions. You should also arrange for someone to drive you home after the procedure, as you may not be able to see clearly immediately after surgery.
After the LASIK surgery, you should rest for a few hours and avoid any activities that could cause injury to your eyes. You will also need to use eye drops to prevent infection and promote healing. You should also avoid rubbing your eyes and wearing makeup for a few days after the surgery.
What should I do if I experience discomfort or pain after LASIK surgery?
Your surgeon may prescribe pain medication or eye drops to help alleviate any discomfort or pain you experience after LASIK surgery. It is important to follow your surgeon's instructions and attend all follow-up appointments.
Will my insurance cover LASIK laser eye surgery?
Most insurance plans do not cover LASIK laser eye surgery, but some may offer a discount or flexible spending account options to help cover the cost. You should check with your insurance provider to see what options are available to you.
---
Contact Skouras Eye & Cosmetic Centre
If you are interested in
booking your complimentary assessment
for LASIK, call (416) 590-0445 or email our office today to speak with a member of our team.
---
"The more boundless your vision, the more real you are."
― Deepak Chopra, Life After Death: The Burden of Proof