What's The Difference Between Bladeless LASIK And PRK?
Monday, August 14th, 2017, 10:00 am
Bladeless LASIK (also known as iLASIK) and PRK (also known as photorefractive keratectomy) are all vision correction procedures used to treat the same vision problems, including myopia, hyperopia and astigmatism. Allowing you to have unaided 20/20 vision.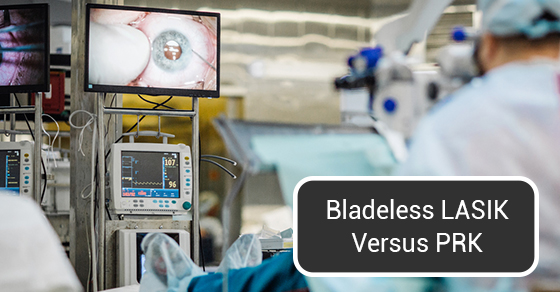 PRK (photorefractive keratectomy) was performed in 1988 and approved by Canada in 1991. Lasik was approved shortly after in 1999. Both offer the same results. What's the difference between the two procedures, and why might some people choose one procedure over the other? We will take a look at this in more detail below.
The Difference Between Bladeless LASIK and PRK
Both bladeless LASIK and PRK use excimer lasers to reshape the cornea. Patients who suffer from Hyperopia, Myopia and Astigmatism have dufficulty with the way light focuses on the retina. Light focuses behind or in front of the retina due to the shape of the cornea. The cornea is reshaped in order to change how the light is focused.
The main difference between LASIK and PRK is in the first part of the procedure. With LASIK, a thin flap is created with the femtosecond laser. The flap is then lifted so that the laser can access the corneal tissue, and is later put back into place once the cornea has been reshaped. With PRK, the outer layer of the cornea (called the epithelium) is gently removed instead of being merely lifted. It then repairs itself (in about 3-4 days) after the procedure.
Some people may not be candidates for LASIK because they have very thin corneal tissue, or corneas that are structurally unique, so PRK may be a safer alternative. You may also be a candidate for PRK if you have already undergone LASIK in the past. The differences between the two procedures are minor. For example, since the PRK surgery requires the epithelium to regenerate, healing time may not be as quick as with LASIK surgery. Both procedures, however, are safe, quick, and highly effective, delivering outstanding vision results.
To determine what would be the best option for you, book a consultation with your LASIK eye surgeon. If you are interested in bladeless LASIK or PRK surgery, consider Skouras Eye and Cosmetic Centre. We are one of the leading comprehensive eye care facilities in Toronto. Contact us today for more information.
---
Category: Lasik Eye Surgery FAQs
---