Can LASIK Eye Surgery Be Done Twice? Everything You Need To Know
Monday, November 27th, 2017, 10:00 am
When glasses and contact lenses become too cumbersome, many people turn to LASIK eye surgery to restore their vision. Laser vision correction is popular because it is an easy procedure for the ophthalmologist to perform, and the patient is able to recover quickly with improved vision.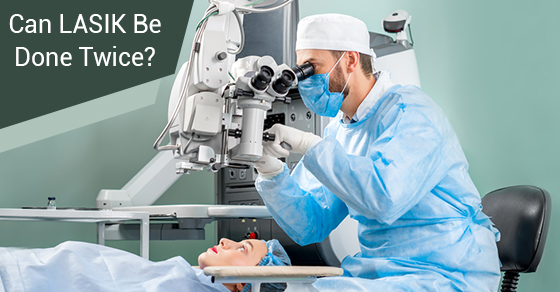 What is LASIK?
Laser vision correction surgery is a refractive procedure done to treat nearsightedness (myopia), farsightedness (hyperopia) and astigmatism. The most common corrective surgery is called LASIK (laser-assisted in situ keratomileusis). Lasik and laser technology is approved by the FDA and Health Canadaand is used to reshape the cornea to let light properly enter the eye. LASIK takes about 15 minutes per eye, and you can usually see the results within 24 hours. The procedure itself is not painful, and most people are able to return to their normal activities a day or two following their laser vision correction surgery (or as soon as their vision clears).
Can Laser Correction Surgery Be Done More Than Once?
LASIK eye surgery is permanent and the procedure has a very high success rate. Approximately 98% of patients report great results following their laser vision correction surgery. But there is the remaining 2% for which the surgery is less successful and must be repeated. In these cases, the patient may be left with 20/40 vision instead of 20/20. When you have a second LASIK procedure, it is called a "touch up" or "laser enhancement surgery." As with any surgical procedure there are risks involved; however, the risks are so minimal with LASIK that repeating the procedure to further repair a patient's vision is not a cause for concern.
How Do You Know If You Need A Second Procedure?
If you notice that your distance vision is blurry, you may be a good candidate for a second laser vision correction procedure. In order to undergo the procedure, your cornea must be healthy. In addition to a healthy cornea, there must be ample tissue left in the area, because a small portion of it is removed with each LASIK surgery.
How Long Should You Wait Between Procedures?
The timeline varies from patient to patient, but if you are going to need another LASIK eye surgery to further correct your vision, you can undergo it as soon as your doctor gives you the all-clear. This is usually after a few months following your first laser vision correction surgery.
Do you need laser vision correction surgery? Please contact us for more information about our LASIK eye procedures.
---
Category: Lasik Eye Surgery FAQs
---