8 Tips To Prepare For Your LASIK Procedure
Monday, August 7th, 2017, 10:00 am
LASIK eye surgery is a safe and quick vision laser vision correction procedure for those with myopia, hyperopia and astigmatism. The actual procedure itself only takes about 15 minutes to perform on both eyes. Despite this, it is still important to prepare for it, as this will help achieve the best results. During your consultation, you will receive full pre-operative and post-operative detailed instructions from Dr. Skouras. The following tips will provide a general overview of the preparations required, for those who are considering LASIK.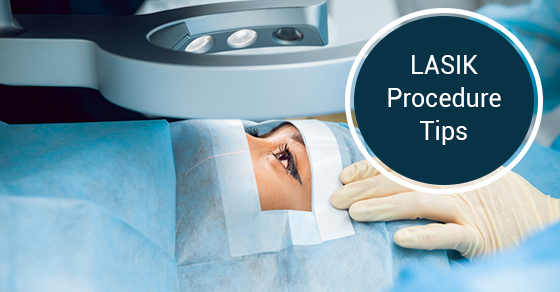 Weeks Before Your LASIK Procedure:
Stop Wearing Soft Contacts A Few Days Before

Typically, eye surgeons will advise that you stop wearing soft contacts about three days prior to your consultation and scheduled surgery date, to allow time for your cornea to return to its natural shape and size. If you wear GP lenses, it may be recommended that you stop wearing these three to four weeks in advance of your surgery, but this can be discussed in more detail with Dr. Skouras.

Arrange to Take a Couple of Days off

People heal from LASIK eye surgery quickly. Some return to work the next day. However, it is still recommended that you take a couple of days off to allow time to heal.

The Day Before Your LASIK Procedure:

Arrange Drop off and Pick Up

The night before your procedure, you will want to arrange to be dropped off and picked up after your procedure. Your eye surgeon, Dr. Skouras, will need to give you approval the following day before you can drive safely again.

Review All of Your Surgeon's Instructions (and Write Down Any Questions)

Now would be a good idea to review any instructions your eye surgeon has given you and to write down any questions, if you have them. Don't hesitate to contact the clinic at any time leading up to your procedure to ask any questions.

Remove Any Makeup and Lotions from Around Your Eyes

The night before your LASIK procedure, you should remove any makeup and/or lotions that you have around your eyes, including mascara and eyeliner. Ideally, you would not wear any of these products on the day before your procedure, so as to prevent any debris from entering your eyes.

The Day of Your LASIK Procedure:

Do Not Wear Makeup, Lotions or Perfume

The operating room is a scent free environment and makeup/lotions can lead to small particles entering the eye.

Dress Comfortably (Avoid Accessories)

Dress comfortably for your procedure, ensuring that you avoid wearing any accessories in your hair that could interfere with the LASIK eye surgery.

Follow Your Surgeon's Post Op Instructions Carefully

Typically, this will involve taking medicated eye drops, which will prevent infection and reduce inflammation. The healing process after LASIK is very quick!
If you are interested in LASIK eye surgery, consider Skouras Eye and Cosmetic Centre. We are one of the leading comprehensive eye care facilities in Toronto. Contact us today for more information.
---
Category: Lasik Eye Surgery FAQs
---