Why is it necessary to wear sunglasses in the sun?
Wednesday, May 1st, 2019, 10:00 am
Blinded by love don't get blinded by the light!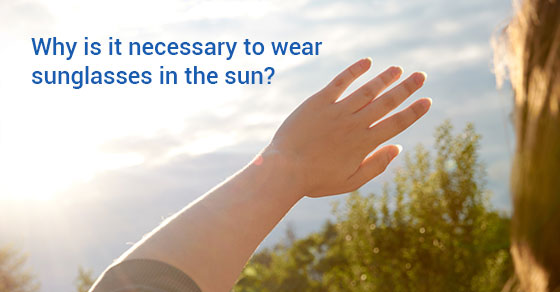 Just like you use your SPF in the summer and winter months to protect your largest organ. Your skin. do you know it is important to protect your eyes as well?
According to The American academy of ophthalmology; snow blindness, a form of photokeratitis ("photo" = light, Keratitis = inflammation) is a painful eye condition caused by exposure to ultraviolet (UV) rays reflected from ice and snow. Particularly at high elevation severe cold and dryness can also cause this condition.
Can photokeratitis occur only in natural light?
Photokeratitis can happen without sunlight it can occur from man-made sources of ultra violet radiation such as sun lamps and tanning booths.
What type of activities increase the risk of photokeratitis?
Winter activities such as skiing, snowmobiling and mountain climbing are activities that are most usually associated with this condition, due to thin air and less protection from UV rays.
How do I Know if I have photokeratitis?
Symptoms of photokeratitis usually do not present until after the damage is done. Just like sunburn symptoms include;
• Pain
• Redness
• Blurry vision
• Tearing
• Foreign body sensation/Gritty Feeling
• Swelling
• Photophobia (Sensitivity to bright Light)
• Headache
• Seeing Halos
• Pupil Constriction
• Eye lid twitching
• Rarely, temporary vision loss
CNN newsman Anderson Cooper shared his experience cooper: Temporarily blinded by the light.
"I woke up in the middle of the night and it feels like my eyesare on fire. My eyeballs and I think oh maybe I have sand in my eyes or something. I douse my eyes with water. Anyways, it turns out I have sunburned my eyeballs he said on Anderson live. I had no idea you could do that."
How is photokeratitis treated?
A great way to treat photokeratitis is by using artificial tears. The best artificial tears are ones without preservatives. Such as, Hylo and Thealoz duo. Both drops can be purchased from your ophthalmologist in Toronto Skouras Eye & Cosmetic Centre. If affected by photokeratitis you can also try methods such as placing a cool wash cloth over your closed eyes and taking an over the counter pain reliever may help alleviate some of your symptoms. It is always recommended before starting any treatment for photokeratitis that you visit your nearest ophthalmologist for proper diagnosis and treatment.
Is photokeratitis permanent?
The good news is, just like a sunburn is temporary so is photokeratitis. Symptoms from photokeratitis typically go away within 1-3 days.
How to prevent photokeratitis ?
Photokeratitis is preventable by wearing eye protection that blocks UV radiation.
---
Category: General Eye Care
---