5 Harmful Habits That Could Be Prematurely Aging Your Eyes
Thursday, September 18th, 2014, 9:15 am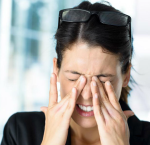 Many people avoid practicing bad habits that could prematurely age their facial appearance or their skin. However, these same people may be unwittingly doing things that could be aging their eyes.
Here are five habits you should steer clear of to avoid harming your vision.
Leaving Your Sunglasses At Home
Even on cloudy days, the sun emits harsh ultraviolet (UV) rays that can burn the front of your eyes. Constant UV exposure may also cause certain eye diseases, including macular degeneration and cataracts as well as pterygium, or "surfer's eye," an irregular growth on the clear tissue of the eye. Avoid these eye problems — and stay fashionable — by wearing your sunglasses, even on overcast days.
Being Rough With Your Eyes
The skin around your eyes — not to mention the eyes themselves — is extremely sensitive. Constantly rubbing your eyes can damage the blood vessels lying beneath the surface of the skin. Also, pulling or tugging on the skin around your eyes can lead to noticeable signs of aging in the area, such as dark circles beneath the eyes, puffiness, drooping eyelids and wrinkles around the edges (e.g. crow's feet).
Not Getting Enough Shut-Eye
On average, adults need seven to eight hours of sleep every night to stay healthy. Not getting enough quality shut-eye can lead to a host of health problems, including cardiovascular disease, mood swings, weight gain and other concerns. In addition, continuously missing out on sleep can leave you with bloodshot eyes, blurred eyesight and twitches in your eye.
Smoking
Almost everyone knows to avoid smoking due to the increased risk of lung cancer, emphysema and heart disease. However, did you know that smoking can also have serious negative effects on your eyes? Individuals who smoke are up to four times more likely to suffer irreversible blindness than those who do not smoke. If you smoke, quit! It is never too late to decrease your risk of suffering smoking-related eye diseases.
Skipping Your Annual Eye Exam
Many individuals do not visit the ophthalmologist until they experience a problem with their vision. This is a dangerous practice, because many eye health issues do not present any symptoms in the early stages. More importantly, certain eye conditions, including glaucoma, can cause irreversible vision loss if left untreated. The good news is that glaucoma and other eye diseases can be managed if detected early. That is why it is crucial not to skip your annual eye exams. Your eyesight will thank you.
If you are overdue for your yearly eye exam, schedule an appointment with Dr. Skouras to check your vision health. To do so, please contact Toronto eye care practice Skouras Eye Centre by calling (416) 590-0445 today.
---
Category: General Eye Care, Uncategorized
---