Why Winter Is The Perfect Time For LASIK
Monday, December 11th, 2017, 10:00 am
Thinking about improving your vision through LASIK eye surgery? Why not schedule it for the winter? The colder months provide the perfect time for this type of surgery for many reasons. Let's explore them below: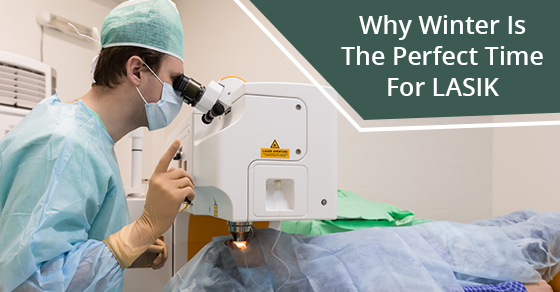 Allergies Are Minimal
Many of us suffer from seasonal allergies in the spring and summer months. With seasonal allergies comes itchy, watery eyes, or, conversely, dry eyes. Getting LASIK eye surgery in the winter means you don't have to deal with seasonal allergy symptoms as you recuperate from your procedure. Plus, after LASIK, you will need to avoid rubbing your eyes for about two weeks. If you have allergies, it's going to be very hard not to touch your eyes.
You Can Recoup At Home Over The Holidays
If you schedule your LASIK procedure for the winter, you can take time off over the holidays to recover. The recovery period for this eye surgery is minimal, but you will need to put aside 2-3 days to stay home and rest. If you're already off from work enjoying a holiday vacation, you might as well use that time to give your eyes a chance to heal. Your vision will be clear within 24-48 hours after your surgery – why not use that time to catch up on your favourite TV shows and relax?
You're Probably Not Going To The Beach
In the month following your LASIK eye surgery you will need to stay away from water. Of course, you can shower and wash your face as usual but swimming is a no-no. Our Canadian winters do not allow for beach visits or trips to the outdoor pool, which makes winter the perfect time for LASIK. You'll be staying away from the lake anyway during the cold months, so you might as well take advantage of that and correct your vision.
The Winter Woes With Glasses
Forget your glasses fogging up! The drastic temperature difference between the bitter cold and the toasty, warm indoors, will instantly cause your lenses to fog up and temporarily impair your vision. This is certainly is one of the most annoying parts of owning glasses, which is why LASIK is a great solution when experiencing your favourite season, or your least favourite season. Also, the majority of winter sports are a hassle while wearing your glasses. Whether you are hitting the slopes or the ice, your glasses can tend to get in the way with the necessary headgear. LASIK will only solve this inconvenience for you, so you can get out there and enjoy our Canadian winters!
LASIK eye surgery can only make winter easier for you and the recovery time is short. If you are considering correcting your vision this winter, please contact us. At Skouras Eye & Cosmetic Centre, we specialize in giving people the gift of perfect vision.
---
Category: Lasik Eye Surgery FAQs
---