How To Know If You Qualify For LASIK
Monday, September 18th, 2017, 10:00 am
LASIK is the most common type of laser eye surgery. LASIK is used to correct three common vision problems: myopia (nearsightedness), hyperopia (farsightedness), and astigmatism. In other words, LASIK treats all refractive errors. LASIK is capable of achieving at least 20/20 vision or better and has extremely high success rates. LASIK can also eliminate the need for glasses and contact lenses (at least until you reach a certain age, when reading glasses become necessary due to the natural aging of the eye). In brief, LASIK works to reshape the cornea with a laser.
To determine whether you are qualify for LASIK, take a look at the list below. You can also read more about LASIK surgery on our website by clicking here.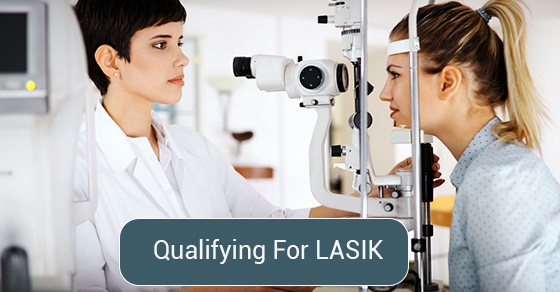 How To Know If You Qualify For LASIK
To determine if you are a candidate for LASIK, an assessment or consultation will be necessary where several tests will be conducted. In general, however, ideal candidates for LASIK are:
At least 18 years old
Are in good general health
Have good eye health (free of eye diseases, abnormal corneas, or scars or infections)
Have had a steady eye prescription for one year prior to LASIK
Are not pregnant or nursing
If you are interested in LASIK, you need to be willing to stop wearing contact lenses for three days, both before your consultation and LASIK eye procedure. This is because contacts can change the shape of your corneas which would affect your results.
In some cases, people may not be candidates for LASIK because they have already had the procedure done in the past, or because of the particular shape of their cornea. If you do not qualify for LASIK, you may qualify for another type of laser eye surgery known as PRK, which is also used to treat refractive errors. It is very similar to LASIK—both work to reshape the cornea—but their methods are different.
If you are interested in LASIK, consider Skouras Eye and Cosmetic Centre. We are one of the leading comprehensive eye care facilities in Toronto. To schedule a complimentary assessment or for more information, contact us here.
---
Category: Lasik Eye Surgery FAQs
---