5 Misconceptions Of LASIK Eye Surgery
Monday, January 1st, 2018, 10:00 am
LASIK has been successfully performed for decades, and yet some misconceptions still persist. They continue to be shared through social media, word of mouth and the internet in general. However, if you are looking for facts, you can trust us as a reliable resource to learn everything you need to know about LASIK eye surgery.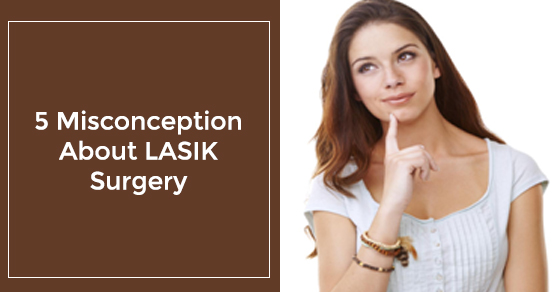 Misconception #1: If I Move During Surgery, The Laser Will Ruin My Eyes.
The technology we use at Skouras Eye and Cosmetic Centre has a 3D tracking system that follows the most minute movement of your eyes. If you are unable to remain focused, the laser stops automatically, and it will resume at exactly the point where it stopped. We use a painless device to keep your eyes open throughout the procedure so blinking shouldn't be a concern either.
Bottom line: you cannot do any anything wrong during laser eye surgery. Cross those off your list!
Misconception #2: I Will Have To Take A Lot Of Time Off After LASIK.
Don't worry about using your vacation days to have LASIK. The recovery time is relatively quick, with most people returning to work within a day or two. Depending on your occupation, there is little to no "down time" after LASIK. You will be cautioned to avoid swimming, smoky environments, and contact sports for several weeks, but patients can resume most normal activities within a week when they follow post-operative instructions.
Misconception #3: I Can't Have LASIK Because I Have Astigmatism.
It surprises us whenever we hear this from patients, but it remains one of the most prevalent myths out there. Laser eye surgery corrects all three of the common refractive errors: nearsightedness, farsightedness and yes, astigmatism.
If you have been under the mistaken belief your astigmatism could not be corrected, contact us for a free consultation.
Misconception #4: LASIK Is Still Too New. I'll Wait To Be Sure It's Safe.
Millions of LASIK surgeries have been successfully performed with an extremely low complication rate. Yet this myth is still believed by many patients. First responders, the military, and NASA astronauts are cleared for laser eye surgery. This should assure anyone who is considering LASIK that it will be safe for you too.
Misconception #5: The Laser Does All The Work, So It Doesn't Matter What Surgeon I Choose.
Nothing could be further from the truth! The laser is but one tool an experienced LASIK surgeon uses to correct your vision. If you want to have an excellent outcome without complications, look for a surgeon who will perform the many tests to determine if you are a good candidate. They will then review the results and prepare a customized plan to provide you the very best vision results.
Choose someone like Dr. Skouras who conducts your tests, reviews the results, performs your surgery, and then will see you for all your post-operative appointments. Yes, the most advanced technology matters, but if you want to optimize your outcome, choose an experienced doctor who takes the time to answer all your questions and personally follows you through the LASIK experience from start to finish.
If you have questions, bring them to Skouras Eye & Cosmetic Centre.
We can set the record straight about LASIK misconceptions.
---
Category: Lasik Eye Surgery FAQs
---